By: Cliff Chambers Date: 02.10.2022
---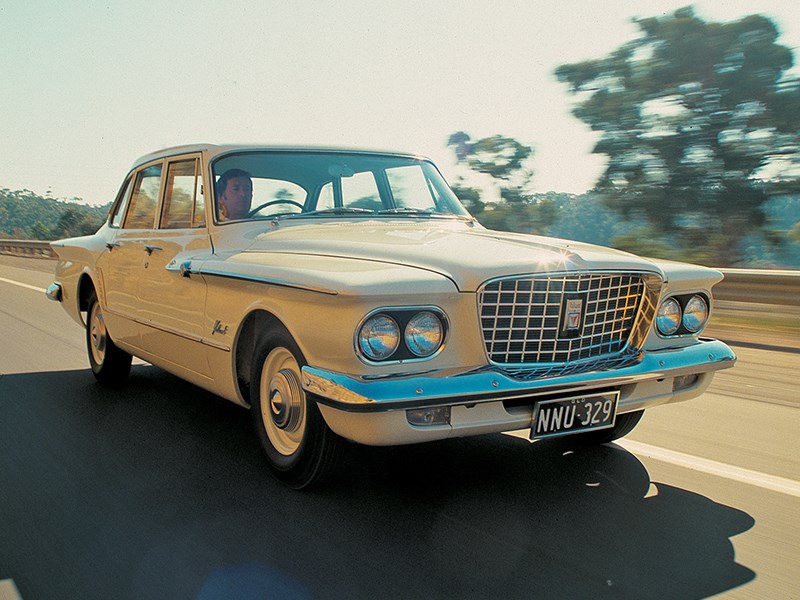 It took Chrysler ten years to find a model to suit Australia. The slant-six R & S Series were the answer
After establishing a subsidiary in Australia, Chrysler then took ten years to find a model which could compete with the dominant Holden and recently arrived Ford Falcon.
The `V-200' Valiant had been part of the North American Plymouth range since 1959 and within a year was being evaluated for Australian release. Reaction was positive, so crates containing enough components to build 1008 `R' Series Valiants were shipped to Chrysler's factory in the Adelaide suburb of Tonsley Park.
The cars began appearing in local Chrysler showrooms from 18 January 1961 and within days all had been sold. Disappointed buyers then needed to wait more than a year until a slightly restyled S Series became available.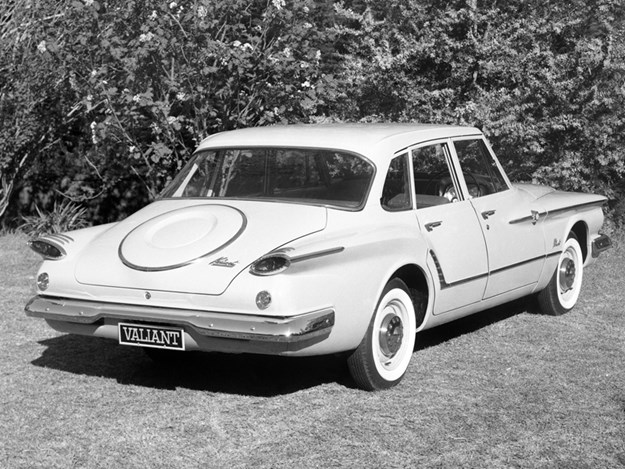 March 1962 saw Chrysler become the final major supplier of six-cylinder passenger cars in Australia. The S Series in profile was virtually identical to the 'R' but some of the original's more controversial features like 'cat's eye' tail-lamps and 'bin-lid' spare-wheel bulge were gone.
Finished as well was the manual cars' floor shift, replaced by a 'three-on-the-tree' column shift like the Holden and Ford.
| Read more: 1961 Plymouth Valiant R Series hardtop review
Three-speed Torqueflite transmission did stay though, along with other improvements like a larger fuel tank, sealed-for-life ball joints, larger brake shoes and extended service intervals.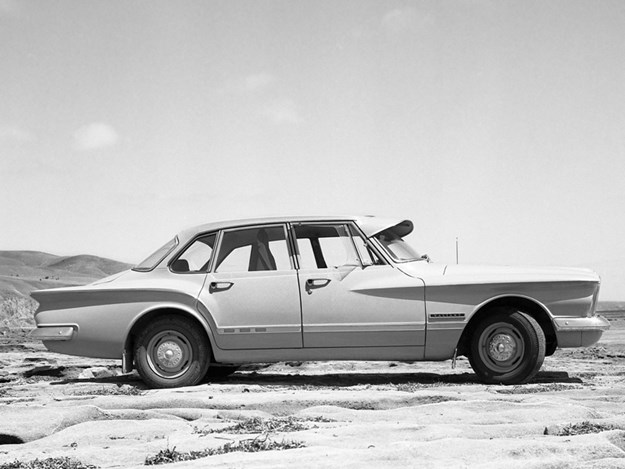 The 225 cubic inch (3.7-litre) 'Slant Six' engine remained unchanged and a feature of the Valiant's buyer appeal. While most R Series were manual, the S Series split was around 50/50. Even in S Series form, the Valiant looked exotic when parked alongside a drab EJ Holden or XL Falcon. It was bigger, with more leg and shoulder room than the others, however there would be no station wagon until an AP5 version arrived in late 1963.
Performance was the Valiant's forte and 'Wheels' magazine coaxed 158km/h out of an early-build manual. Owners would subsequently claim that run-in cars would rev a little harder and crack the magic 100 mph (161km/h) mark. 0-100km/h took around 13 seconds and that wouldn't be challenged until Holden started selling manual versions of its 179 cubic inch EH.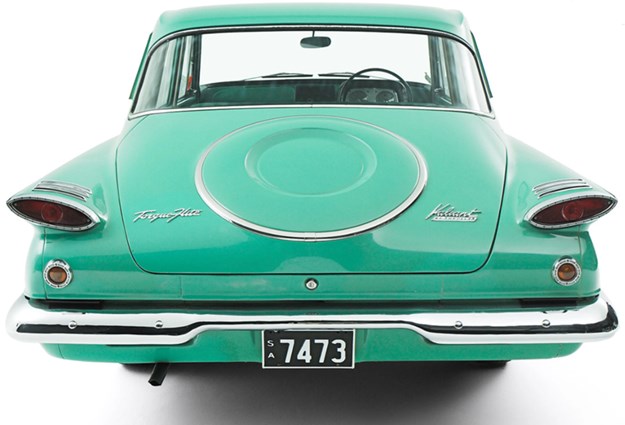 Absence of body roll was a high point of 'Wheels' open-road evaluation; the car's overall drivability was compromised only by a 12.2 metre turning circle. Interior space and comfort were praised as well and these cars still make viable 'family' classics, especially if a previous owner has installed seat belts for everyone. They are also more usable if the front drum brakes have been replaced by discs from a later model.
The engine bay offers enough space to install a V8 engine, however the extra weight upsets the car's balance, requiring money to be spent on beefing up the torsion bar front suspension and even resetting the rear springs.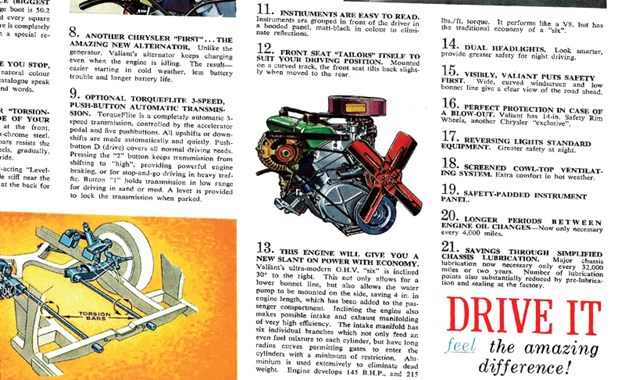 Parts, including some replica body panels, are available from US and local suppliers, however buying a car without serious rust will save the cost of often tricky panel repairs.
Surviving R Series are very scarce and even trashed cars that need major restoration will be expensive. S Series are cheaper to buy but cost the same to restore and, once completed, are a lot less valuable than an 'R.'
Value range Valiant (S Series Auto):
Fair: $8000
Good: $21,000
Excellent: $32,000
(Note: exceptional cars will demand more)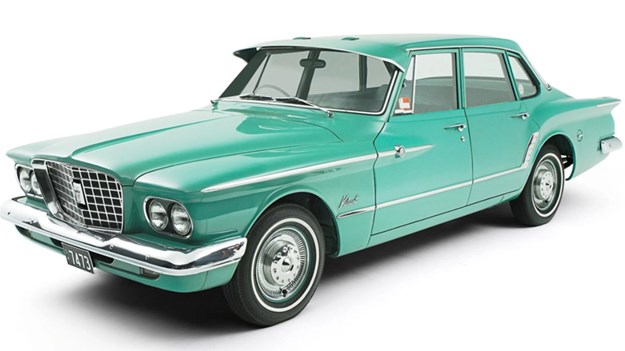 BUYER'S CHECKLIST
Body & chassis
Rust attacks virtually every part of early Valiants, but some corrosion is more threatening to the car's survival than others. Damage to the front pillars, quarter panels, the firewall and around window apertures will be difficult and expensive to repair. Replacement sills and floor pans are available but other sheet metal parts will need to be specially made or sourced second-hand. Missing or damaged chrome is hard to find and expensive when you do. A decent-looking R Series rear bumper found in the USA at US$225 came with a shipping quote of US$209. The same yard also had a solid-looking boot lid for an R but no prices were quoted.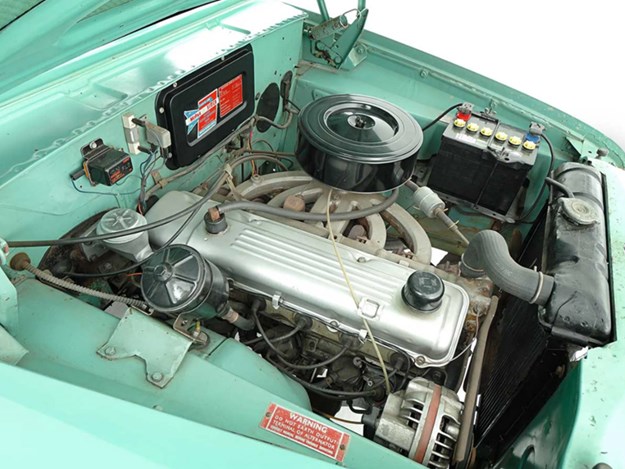 Engine & transmission
The 'Slant Six' engine was Chrysler Australia's mainstay powerplant throughout the 1960s, so second-hand replacements and new parts are freely available. It is also one of the world's most durable engines and with proper maintenance will exceed 250,000kms between major rebuilds. Exhaust leaks can occur when manifolds 'curl' lengthwise to leave part of an exhaust port exposed. Familiarisation with the push-button TorqueFlite transmission might take a little practice but these units are very durable. Rebuilds aren't cheap though–up to $5000 to fully recondition an early Torqueflite. Floor-shift manual R Series uses a hydraulic clutch but the S Series clutch is mechanically actuated. Abuse of the non-synchromesh first gear can lead to chipped gear teeth.
Suspension & brakes
Worn rubber components and tired torsion bars can cause the front suspension to sag and make steering vague. New tie-rod ends for R Series cars are unavailable but S Series parts are easier to obtain, with some components shared between them and the later AP5-6. Rear leaf springs aren't usually a source of problems but inspect them for cracks and seized shackles. Drum brake overhaul parts are still available but replacing the front brakes with discs from later-model Valiants is recommended if a car will be regularly used. Unless you are creating a totally authentic show pony, switching from cross-ply to radial tyres is also wise.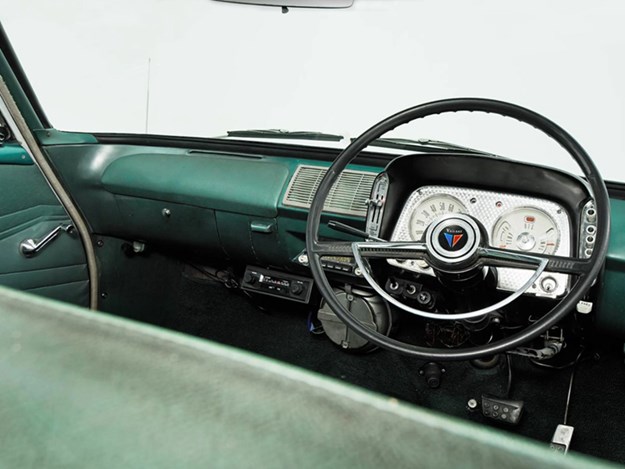 Electrical & interior
Major electrical problems are rare in early Valiants but parts aren't easy to find either and can be unique to the R or S. Finding good starter motors is said to be difficult, so rebuilding by old-school auto electricians is recommended. Instruments need to be checked to ensure correct operation. Wiring which runs through the boot is vulnerable to damage, so make sure the back lights work. Correct seat-trim material is unavailable even in the USA but reproduction floor covering can be sourced here. Reproduction body and window rubbers are sold locally at around $1500 per set.
1961-1963 Chrysler Valiant R & S Series specs
NUMBER BUILT: 1008 (R Series) 10,009 (S Series)
BODY: Integrated body/chassis, four-door sedan
ENGINE: 3686cc overhead-valve six-cylinder with a single downdraft carburettor
POWER & TORQUE: 108kW @ 4000rpm, 292Nm @ 2800rpm
PERFORMANCE: 0-97km/h – 14.1 sec 0-400 metres 20.8 sec (S Series auto)
TRANSMISSION: Three-speed manual, three-speed automatic
SUSPENSION: Independent with wishbones & torsion bars with telescopic shock absorbers (f), live-axle, semi-elliptic springs with telescopic shock absorbers (r)
BRAKES: Drum (f) drum (r). Power-assistance optional
WHEELS & TYRES: 5.90 x 14-inch cross-ply